The prospect of downsizing decades' worth of belongings may be daunting, but the rewards can be significant!  One of the upsides of downsizing is the opportunity to design and redecorate your surroundings. Consider professional interior design for Downsizers to enjoy newer, more appropriate furniture and accessories in your new space.  
We love seeing our clients get excited about feathering a new nest as they embrace a more carefree lifestyle, but we also highly recommend involving a trained interior designer to help guide those decisions.  Arlington VA-based interior designer Susan Sutter, Principal + Owner of Susan Sutter Interiors, offers practical advice to make the experience go smoothly and create the best possible outcome for a fresh and functional space.
Choosing Accessible Design
New furniture and accessories are an investment in your comfort and well-being for now and the years ahead. Professional designers agree that older people should keep "accessible design" features in mind as they think about interior design for downsizers or redecorating their next place. 
Common recommendations include:
Make sure the building is optimized for aging in place, including no-step entries, wider doorways, sturdy handrails and grab bars in the bathrooms.
Keep your floor plan as open as possible, with few obstructions.
Plan for lighting systems that are flexible and easy to operate.
Larger windows provide natural sunlight and views of nature.
Choose colors that contrast and aid with depth perception.
Choose seating that has firm cushions and sturdy arms.
Choose easy-access drawers, cabinets and storage areas.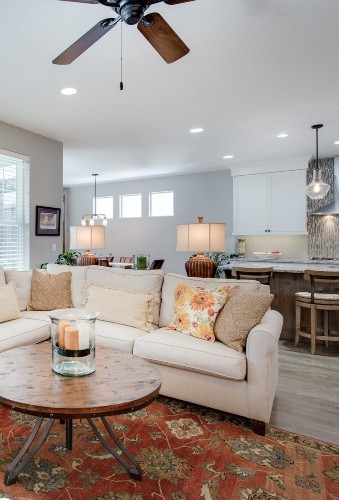 Embracing a Positive Change
Once you have established where you're going to move, one of the first steps of downsizing is to determine what you'll want to take with you. Obviously, you will need to let go of a large portion of your items.  Interior design for downsizers includes these practical considerations that may encourage you to embrace a change in your overall decor in your new place, too:
Oversized furnishings that worked perfectly in suburban homes are impractical in smaller spaces.
Upholstered items and decorative pillows may be uncomfortable or worn after years of use,  or may not be functional for those aging in place. 
Case goods may reflect trends that have passed or outdated technology, like bulky TV cabinets or china hutches.
Large volumes of wall art and accessories will simply not fit into your new smaller space.
Sometimes purchasing new items is less expensive than moving older, outdated ones.
Professional Design Services
Regardless of budget, timeline or other concerns, we ALWAYS start with a floor plan and furniture space plan for your new place. That way, you will know what you have to work with when you design and redecorate. You can make careful considerations about what makes sense to take with you and what makes sense to leave behind.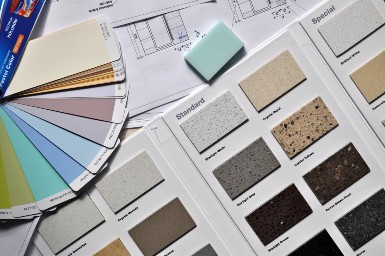 While the services of an interior designer may seem indulgent for some, we feel that consideration for both space planning and a goal for comfortable, functional surroundings is instrumental for a positive change and is well worth any initial investment to get a solid plan in place. And, it is likely to save you money or prevent costly mistakes in the long run and to better equip you for long term aging in place scenarios.
Happily, there are design services for every type of client, style, and budget.  Whether you are moving to an existing home with family, an apartment of your own, or into modern new construction, a consultation with a qualified interior designer is a critical early step.
Many interior designers offer a few hours paid consultation with no obligation for contracting their services.  A paid consultation will allow the designer to walk through your spaces or a future floor plan, determine an appropriate plan and scope for your new home, and provide you with an estimate for contracting their design services to implement the design and redecorate with efficiency and style.   
How to prep for working with an Interior Designer:
We advise all clients to start a design file. We suggest perusing through magazines (Veranda, Traditional Home, Southern Living, etc.) and tearing out pages that catch your attention. You may also create a Pinterest/Houzz Page or Board with inspiration images. When you meet for an Interior Design Consultation, the designer should review your design file to help determine the style direction you desire. 
Timing is also a big consideration. Covid-19 has created both built-up demand for these services, and also delays in the manufacturing and shipping process. Start early! Even without extenuating circumstances, a custom design project will often take a minimum of six months from start to finish.
Have a budget in mind. An overall budget will include the cost of goods, fees for design services, and additional expenses such as freight, storage and delivery fees. Furnishings, window treatments, art and accessories can vary greatly in cost, but in general we find that people who have not purchased those items in many years may be surprised by today's prices.
The best client/designer relationships start with open & honest communication. Be honest about your expectations with your designer, and have a ballpark budget defined at the start of the process. 
Tips for Interviewing an Interior Designer
Your Interior Designer is an important member of your Downsizing team. You'll want to make sure that he or she is qualified and equipped to create a beautiful space that makes you happy, but addresses your needs for comfort and safety. If you engage a professional to design or redecorate, we recommend that you touch on these subjects during an initial consultation:
Make sure to emphasize that you want them to help you choose from your favorite existing pieces to take with you, including art and accessories you love most. An online inventory will be very helpful to share and discuss your favorite items. 
Ask if they have experience with space planning and furniture selection for small spaces. Emphasize that you want comfort and functionality as well as beauty.
Ask if they have experience and ideas about choosing or designing furniture that is designed to help with mobility.
You'll want thoughtful planning with respect to lighting. Ask about lighting strategies for small spaces and task lighting for older people.
How would they describe their aesthetic?  Are there any designers/resources they think you should review to get a good sense of their approach?
Who will you be dealing with?  Will it be an individual or a team? Are they limited in brands they recommend or can they buy from anywhere?
How does their typical engagement go?  Is it collaborative or full-service (and what will you prefer?). How/when will you be asked for feedback?
What do they require/recommend as an initial budget?  What does that cover? Do they pass on trade discounts or not?
How do they invoice?
Will they be able to store items as you go, and deliver/install when you take possession of your unit?  
Things an Interior Designer Should be Asking YOU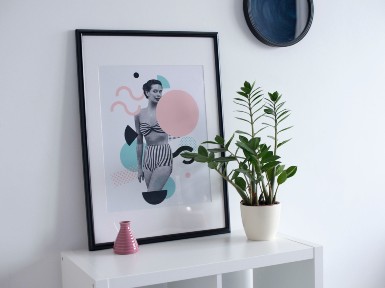 What are your favorite things in your home now?
What style are you looking for? Do you have idea boards?
What are your priorities? Are you interested in construction elements, like built-in cabinets, or more focused furnishings, accessories, decor items?
How do you want to use the space, what do you want to do in the space?
Who will be living in the house?
How hands-on do you want to be?
What is your ballpark budget to include goods, services and freight/storage/delivery fees?
Interior design is an often overlooked resource for downsizers, but careful planning pays off.  Whether you want your new space to feel similar to your existing one, or if you're ready for a radical change, an accurate floor plan, furniture placement plan, and advice from a qualified interior designer is a critical early step in your home transition process. 
We know professionals in your area who can help you plan for a new and improved interior design in your new place.  We can also help you identify and evaluate items of value when you are downsizing, get the most possible money for your stuff, and clear out your home completely.
We'll take it from here. Find Your Local Pro for a free consultation.