Become Recognized as THE Downsizing Specialist in your town
The over-50 home transition market is expanding FAST!  Our goal is to provide helpful resources, dependable advice, and quality services to anyone who is approaching a complex home transition.
We are a national collective of like-minded and successful businesses that offer experienced home transition services. Our partners focus on doing great work; we make it easy for clients (and other businesses!) to find them.
Our vetted Premier Partners enjoy:
• Exclusivity and exposure in their local market.
• Professional and ready-made marketing delivered monthly.
• Ongoing support, networking, and shared resources.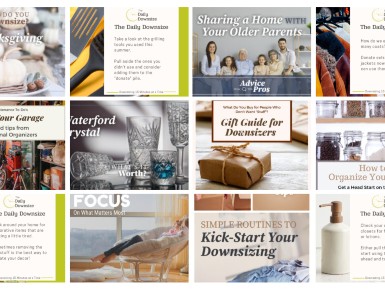 Our Content Marketing will help you Grow your Business
Friendly, helpful content opens the door. Consistent communication seals the deal.
Your Local Landing Page rises to the top of online searches.
New, targeted content is published every week.
You're showcased alongside other qualified, successful businesses.
Display our exclusive "Premier Partner" badge on your website.
Spend Time with People, Not Technology
Focus on being great at what you do.  We provide the tools you need to stay on top of all of your marketing tasks.
You'll have exclusive access to our monthly toolkit, including:
professional social media posts, scheduled on three channels.  
pre-written emails and newsletters for your clients and referral partners.
presentation slides, brochures, and handouts, ready to be personalized with your brand.
Quality marketing, done for you, for a low monthly fee.
Become a Local Premier Partner
Our hyper-local, comprehensive approach allows for ONE Premier Partner in each local market.
You'll Save Time and Money on Your Monthly Marketing Tasks.
We Make Life Easier for Senior Move Managers, Professional Organizers, and Senior Housing Specialists
I can't believe how much exposure my business has gained through the HTP content! I've more than doubled my followers, and my Google search ranking is higher than it's ever been. Now I have a steady flow of business and I can focus on my clients instead of my marketing.
Karen Martin
Santa Barbara CA
"I have really been enjoying the ease of having the social posts all ready to go. Both my Facebook and Instagram pages have increased post reaches by 100% or more! My own business page is gaining in the rankings too.
Julie Starke
Minneapolis, MN
I love not having to worry about finding or posting great content, and I actually have time to follow through on the ideas I never got around to doing before! The networking and support is a huge bonus, too.
Nikki Rice
Chapel Hill, NC
"It used to bug me to not have my own website and blog. Now I get all of the benefits of sharing expert content and showing up in Google searches, without the expense or hassle of doing it myself!
Tricia Spurrier
Fort Worth, TX
Inquire Today for Pricing and Availability in Your Market