Moving yourself or a loved one to an assisted living or retirement community can be a stressful process. It's never as simple as you'd like. That's because in addition to the physical items to move, you may also be contending with health concerns, high anxiety and overwhelming emotions.  And that's not to mention the challenges of moving during a pandemic!
How do you cope?  Turn to the transition specialists at HomeTransitionPros.com.  We specialize in helping seniors navigate the logistics of finding their next home, managing their belongings, preparing and selling their current home, and completing all aspects of moving to assisted living.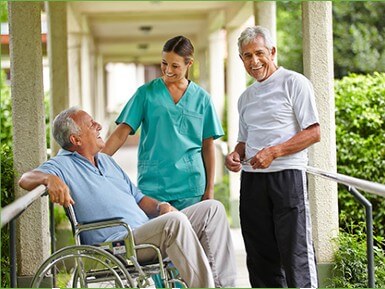 Because it's more than a move.
HomeTransitionPros.com helps empty nesters, older adults and seniors downsize their belongings and relocate to retirement and assisted living communities in the area of their choice.  We will introduce you to trusted, vetted professionals who are experts in senior moves and understand the challenges you'll likely face.
Steps for Moving to an Assisted Living Community
The professionals in the HomeTransitionPros.com collective offer a full range of services to help seniors and their families make the transition to assisted living or one of the many additional senior housing options available.  Our trusted pros can assist with:
selecting the most appropriate, desirable and affordable housing options.




facilitating applications and exploring financing options.




choosing which items to bring.




dispersing, donating, or recycling items no longer needed.




packing, unpacking and setting up a new living space.




preparing properties and listing them for sale.



Help with Downsizing and Planning a Move
If you or a loved one is planning to move into an assisted living or retirement community, a senior move manager from Home Transition Pros will be an indispensable member of your team. Trained to assist with the most delicate situations, our network of trusted home services professionals adhere to a strict code of ethics.
Our pros are with you every step of the way.  Qualified Senior Move Managers® understand the needs of seniors during complex transitions. When older adults move to a new home and adjust to their new surroundings, the primary goal is to promote their safety, health, and peace-of-mind.  If you need to make a move to assisted living, turn to experienced professionals  who will establish a familiar and comforting atmosphere for older adults.