Secure vital documents with the help of our Vital Documents Checklist. If you're thinking about downsizing and/or moving, putting your hands on your important legal, financial, and medical documents should be one of your top priorities.  Pull them together early, and you won't have to worry about losing them during the move.  
Are you starting a downsizing project?
It's safe to say most people do not already have all of their vital documents organized and stored together in one place.   We recommend using a vital documents checklist to help identify and organize your documents.  Then, you can devise a secure system for storing them permanently.  Here we go:
Steps to Securing Your Vital Documents
1)Refer to the list below or download our Vital Documents Checklist.
2) Select a secure storage system for your vital documents. 
A simple file box may be sufficient, or for extra security, you may choose one of the fire- and water- proof options like this one we found on Amazon.
Pro Tip:  You may want to keep a separate file for medical records.  That way you can grab them all at once in the event of a medical emergency.
3) Don't get bogged down in sorting through ALL of your paper. 
Focus on actively searching for the vital documents and check them off the list (we've given you space to add your own if necessary). Keep the list handy during and after the project so you know what's in the file and what's missing.
4) Once assembled, consider scanning and sharing these files with a trusted friend or family member. 
Depending on the number of items you expect to scan (including non-vital documents and photos), you may choose to purchase a desktop scanner.  Professional Organizers seem to like the Fujitsu ScanSnap, but you may find that a free app like Genius Scan gets the job done.
5) Original paper copies of Vital Documents should be kept secure and close at hand throughout your downsizing project and your move. 
If you've managed to pull together all of your vital documents, nice work!  You can check this crucial step off your list, and move on to the next downsizing task.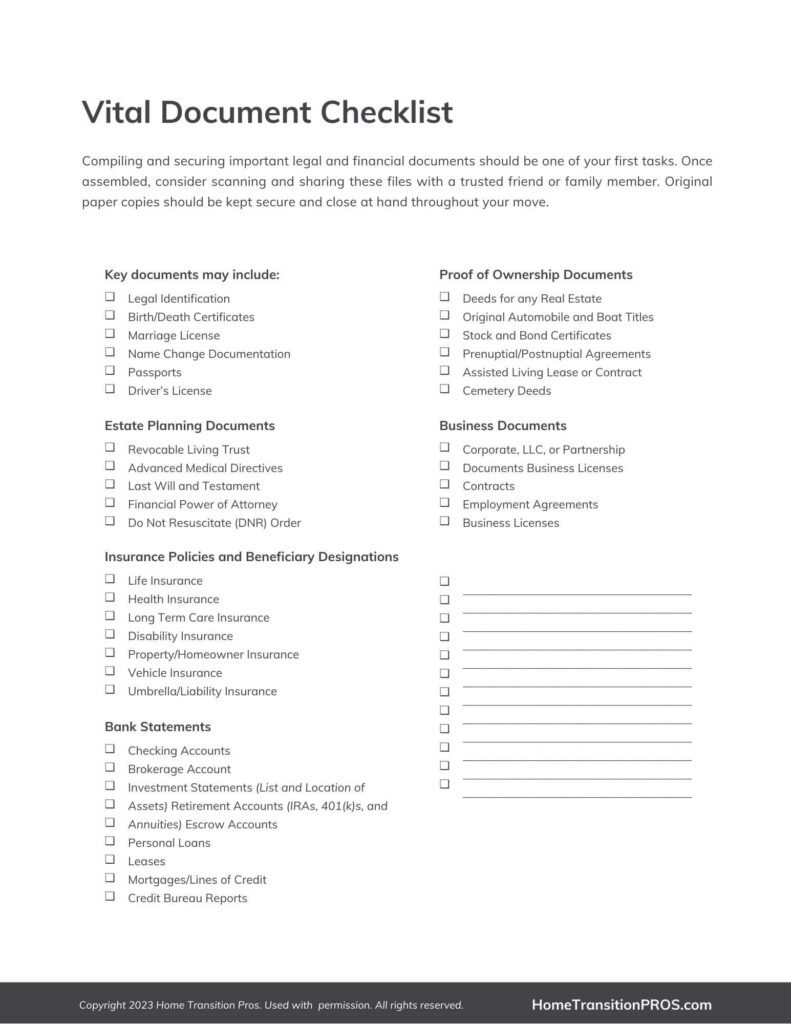 Could you use a hand pulling together your Vital Documents?  Or, do you see items on our Vital Documents Checklist that have been misplaced or not addressed?  
HomeTransitionPros.com connects downsizers with trusted local professionals who can advise you about what may be needed for your specific situation. 
Call us first for free advice and introductions to qualified professionals in your area.